Why not direct AC drive your LED string?
publish:
2016-07-27
Source:
http://en.spartaled.com
Why not direct AC drive your LED string?
The whys and wherefores of AC-direct driving of LED lighting systems explained by Francois Mirand

True to the history of other types of semiconductor products, LEDs offer better performance at a lower cost with every passing year.
So much so, in fact, that the other elements of a conventional LED lighting fixture – the housing, connectors, PCB, optics, and most of all, the power supply – have assumed a large share of the total system cost which five years ago would have been dominated by the cost of the LEDs alone.
This has driven attempts to create a far cheaper architecture, dramatically reducing the cost of the power supply. In luminaire types such as low-end downlighters, linear fixtures and bulkheads, low cost is the most important attribute to buyers. Here, the concept of 'AC-direct LED systems' has been developed to eliminate entirely the need for a conventional (but bulky and expensive) AC-DC switch-mode power supply (SMPS).
The first implementations of AC-direct LED systems, however, gave their designers tricky design problems to solve, and severely limited their freedom to optimise operational features and the luminaire's form factor.
Now an improved architecture for AC-direct LED systems appears to offer both competitive performance and design flexibility. But does it come at an acceptable cost?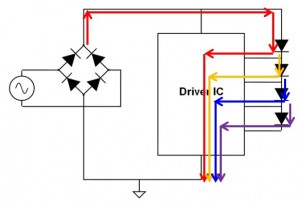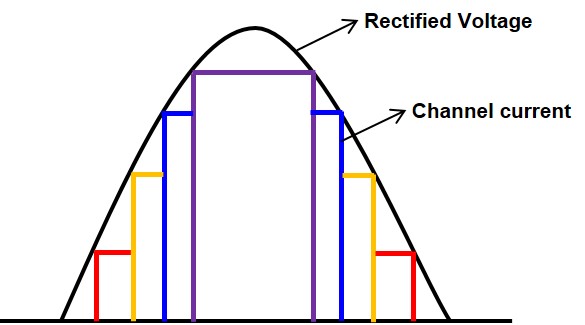 This means that distributed schemes can often use an FR4 PCB, while achieving a more compact layout with smaller spacing between components. In addition, the small, low-profile components used in distributed schemes permit the designer to realise fixtures in any form factor, including linear strips and uniform diffuse light engines free of dark shadows.
The distributed scheme also offers other advantages over centralised regulation. The Exar topology has inherent high surge (transient voltage) immunity of >750V. In a centralised scheme, by contrast, surge immunity requires the addition of a large, discrete Metal-Oxide Varistor (MOV). An MOV is prone to long-term reliability problems as it has a finite ability to absorb the energy of the transient voltage surges that are common on AC mains. To make matters worse, these varistors are not always available in surface-mount versions, and are expensive.
In both centralised and distributed implementations of AC-direct LED regulation, lighting designers have expressed some concern over the issue of flicker. In both schemes, the LEDs go dark every mains half-cycle, (that is, every 1/100th of a second in a 50Hz mains system), when the voltage is at or near to 0V.
In fact, the flicker occurs for such a short interval that in most applications it will not be perceptible by any user. In the low-cost applications for which AC-direct regulation is intended, the low level of flicker will tend to be tolerable.
Adopting a balanced circuit topology, however, and adding a small reservoir capacitor can both mitigate flicker as well as improve efficacy and LED usage, thus balancing part of the extra bill-of-materials cost of the distributed architecture.
Distributed scheme: cost/performance trade-off
The distributed version of AC-direct regulation pioneered and patented by Exar offers the designer a unique freedom to achieve design optimisation, as well as giving a large degree of control over the trade-offs between performance, functionality and cost.
The simplest implementation of the distributed solution tends to be cheaper than the centralised approach, while more sophisticated designs offer the opportunity to add valuable extra features. For example, functions such as presence detection or DALI dimming control may both be accommodated in a distributed AC-direct LED system.
Every application will have its own balance of performance and cost requirements, but the unparalleled design flexibility of the distributed approach merits consideration by system designers who want to implement AC-direct regulation in a new generation of low-cost LED fixtures.